Background
Molding is the process of fabricating by shaping pliable or liquid materials in a rigid formwork. Casting is the process of pouring a liquid material into a mold to achieve a desired shape when the liquid cures. In this post I will focus on making a silicone mold from milled wax and then casting other materials, such as liquid plastic into the mold.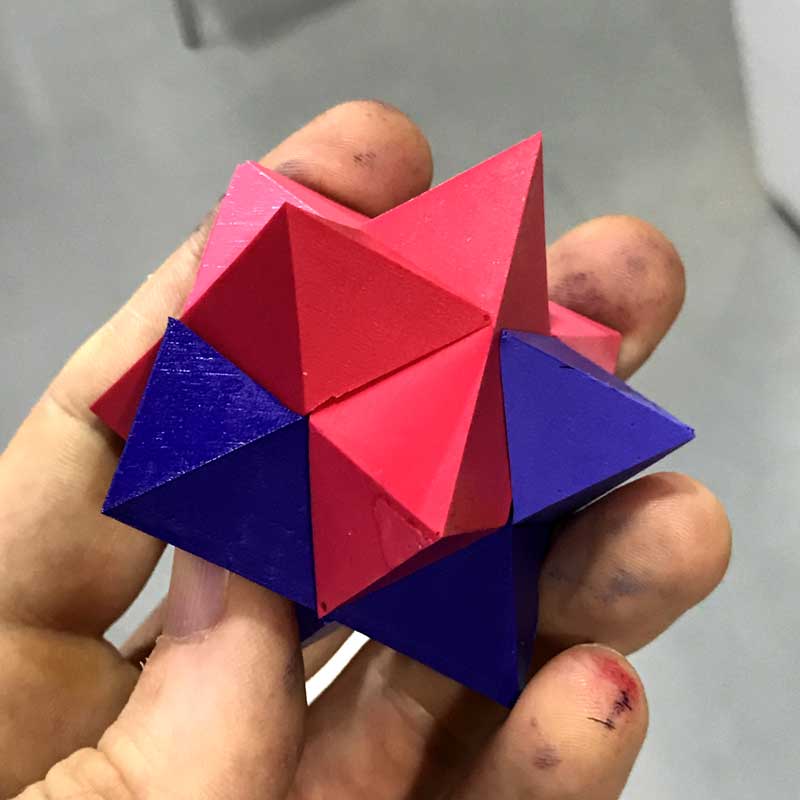 Molding, casting and composites posts...
To make the composite surface, I will combine hessian with a two-part resin which takes about thirty minutes to set and five hours to cure. This job is messy business and I did not have gloves or time to get gloves. That was a bad idea, first, not many photos. Second, the resin gets very hot in just a few minutes, trial by fire. Finally, it is nearly impossible to get off your hands. After countless soapings, I resorted to scrubbing my hands with coarse hair brush/ soap combo and then wearing (different) gloves for the next few hours because...

My idea is to first create a small modular testing garden. I began with some sketches on paper and Rhinoceros. The bioelectrochemical modules are red and the frame is purple. I think this way will be able to be broken down and assembled easily and can be grown or reduced by adjusting the array. While the sketch shows a six by six array, I might reduce it to five by five. The testing modules were essentially cubes. This module is has a smaller bottom half to create a lip for sitting on the structure. In the upper portion there is...

I am preparing a mold of four parts: two outside halves and two inside halves. Then I plan to make a burlap plus resin composite surface around the two inner halves. Finally, I use the outer halves to compress the composite as it cures. I have yet to try milling multiple surfaces from one block of material. Well, until today. The inner halves each require milling on two sides of the material. I sized the molds to the constraints of our lab's Roland MDX-40A benchtop CNC machine. The XY maxes are 305mm according to the manual. Z max is dependant...

Composite materials are made of two or more constituent materials, each with significantly different, yet complimentary, physical and or chemical characteristics. When combined into a composite, the team of materials is greater than the sum of its components. I started the project by mocking up a form in Autodesk Maya. The form is like bamboo in that it grows in sections and has openings to contain the moss. At this point, rather than spending much time modeling this object, I would like to jump into making composites becasue it is my first time. This is a little mockup of what...

The first substance I attempted to cast was Smooth-Cast 300 Series, a liquid plastic with a curing time of just 10 minutes. Here is an overview from the datasheet: "The Smooth-Cast® 300 Series of liquid plastics are ultra-low viscosity casting resins that yield castings that are bright white and virtually bubble free. Vacuum degassing is not necessary. They o er the convenience of a 1A:1B by volume or 100A:90B by weight mix ratio. The di erences between them are pot life and demold time. These resins readily accept llers (such as URE-FIL® 3 from Smooth-On) and can be colored with...

"OOMOO® 25 & 30 are easy to use silicone rubber compounds that feature convenient one-to-one by volume mix ratios (no scale necessary). Both have low viscosities for easy mixing and pouring . . . vacuum degassing is not necessary. Both products cure at room temperature with negligible shrinkage." These silicones also have great tear strength. Oomoo is a two part substance which requires thorough mixing before use. I am using Oomoo 30, which has a ration of part A : part B, 100 : 130. If you trust the buckets, you can do that. You might want to check that...